The cooling water monitor: Inwatrol expert – the perfect tool to monitor and control your cooling water parameters and to fulfill your documentation obligations according to VDI 2047 sheet 2 / 42nd BImschV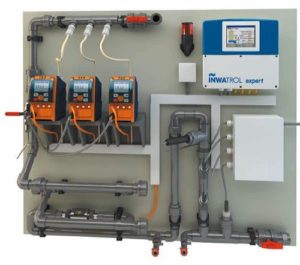 VDI 2047 and the 42nd BImschV place many requirements on you, as the operator of evaporative cooling plants and cooling systems. These requirements are, for example, to monitor your cooling water, to document operating parameters and to ensure hygienic operation of the plant.
We want to and can help you with this: for example, with our modular cooling water monitor Inwatrol expert series, which is compactly mounted on a panel.
We configure the cooling water monitor according to your needs. Thus, each Inwatrol expert is unique. It is configured in consultation with you specifically for your evaporative cooling system.
Do you want the cooling water inflow on the bottom left, the outflow on the top right or the other way round? You want a corrosion measuring section or a flammable stainless steel sampling tap or both? A lot is possible.
Which parameters do you want to measure? Which parameters should also be used for control? We will discuss all important information with you in a detailed meeting. In principle, we permanently measure up to eight different cooling water parameters with the standard version of the Inwatrol experts.
The possible measured variables include:
the conductivity,
the pH value,
the redox potential,
the inhibitor concentration,
the temperature,
the levels of the treatment chemicals,
and much more (please contact us for more information).
The measured parameters are stored in a measurement data ring buffer. You can decide what to do with your data:
You want to transfer the data to your process control system? No problem. This works for example via Profibus or Modbus.
You want us, as your water treatment company, to be able to look at the data as well? Then we transfer the data via modem to a cloud, the Inwanet server. Here, the data for the documentation obligation according to VDI 2047 / 42nd BImschV are safely stored for several years and you also have the advantage that we also monitor the data and can react quickly in case of abnormalities. If the measured values exceed the alarm values set by you, you and your Inwatec supervisor will receive an e-mail with a specific alarm message.
Data storage of the correct parameters can then also replace your own in-house investigations, giving your employees more time for other tasks.
Interested? Call us at +49 2271 995510 or send an e-mail to info@inwatec.com. We will be happy to advise you.