Saving resources and CO2 – Our contribution to climate protection
INWATEC has been working on the saving of resources for a long time. For us, sustainability is an indispensable part of our corporate philosophy. We are aware that water conditioning affects the environment at every step. For this reason, it is even more important for us to make our water treatment as energy-efficient as possible.
Climate change is now part of everyone's everyday life. Each of us can do our part to reduce the emission of harmful gases for the future. We are all responsible for this. Even if each individual can only take a small step, if everyone pulls together, it is a big step.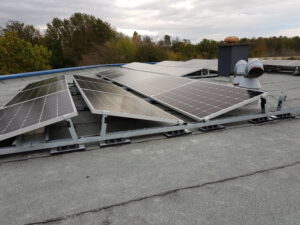 We at INWATEC also want to contribute to this.
And how can we as water treatment companies save resources and work sustainably in the best possible way?
– We obtain the raw materials for our products without exception from German and European manufacturers. This results in short transport distances and less CO2 emissions. It also allows us to offer our customers a higher standard of quality.
– 80 percent of our newly registered company cars are electric. As a result, we generate fewer harmful greenhouse gas emissions. Our e-cars can be charged at our charging stations next to our headquarters in Bergheim. Our goal is to convert 95 percent of all field service cars to e-mobility as far as technology allows. This means that in the future almost all of our field service employees will be able to drive energy-efficiently to our customers to use our products there.
– Since October 2021, we as INWATEC have had a large solar plant on the roof of our office and laboratory in Bergheim. Among other things, this runs the electricity for our four charging stations for e-cars. In addition, our solar modules enable the self-sufficient operation of our wet chemistry and research laboratory.
– We are currently researching the development of a sustainable product line. You will receive further information shortly. Be curious!