Water treatment during PET recycling
INWATEC GmbH & Co. KG supports not only operators of cooling systems with its high-quality water treatment services. We can help you in any area related to chemical water treatment. Water conditioning also plays a decisive role in the recycling of PET bottles.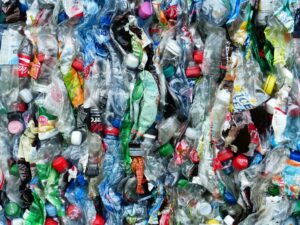 After the bottles have been sorted, they are crushed into flakes. And this is where we come in – our task is to support the washing process. By adding cleaner and lye, we achieve a removal of the organic residues on the flakes and thus a very clean surface. Defoamer is also recommended as needed to prevent disturbances in the washing process. The aim is to achieve pure flakes so that they can be melted cleanly and reused. In the process, the energy requirement and the washing water temperature are checked and, if necessary, reduced so that considerable savings can be made. Furthermore, we check already at the input how the sorting and crushing are going. In the washing process, water flows, degree of contamination, temperature and lye concentration are additionally checked. The quality of the flakes can be discussed and agreed with us.
With the help of our innovative products and the attendant control and advice, the water for cleaning is dosed in a chemically appropriate way. We attach great importance to working energy-efficiently and not wasting chemicals. However, a sufficient amount is very important to clean the flakes and to minimize the maintenance costs for the cleaning tanks. So in the process, there is no way around effective water treatment.
PET bottle recycling saves many resources and is essential in our everyday life today. It is more and more necessary to reuse resources to protect the environment.
If you need a competent service provider to clean your PET flakes in the recycling process, you have come to the right place. You can contact us at any time via our contact form. We will be happy to help you.