The increasing relevance of water recycling and conservation
The need to reduce water consumption in manufacturing companies is growing strongly. Climate change is also increasingly being felt in Germany in the form of declining availability or rising costs of fresh water. The current gas shortage situation is leading to strong short-term pressure on operators of industrial steam generators to increase the thickening of boiler water. In addition to saving water, this reduces energy costs, especially in gas-fired plants, by reducing the loss of energy via the necessary desalination of boiler water. By using desalination plants (ion exchanger or membrane technology) as a replacement or supplement to frequently used softening plants, known technology can be used here very quickly to leverage the high potential for water and energy savings.
By far the largest water consumers in our manufacturing plants are the evaporative cooling systems and cooling towers. Standard chemical treatment programs already maximize the thickening rates of cooling water in many German plants. However, this does not mean that significant savings can no longer be achieved in these systems. The recovery of wastewater from such plants and its reuse as make-up water after appropriate treatment leads to a total saving of approximately 15-30% in fresh water, as well as a reduction of the wastewater volume from these plants by 50-70%. In the event of a shortage of fresh water, this can lead to a safeguarding of many energy-intensive production processes, which are not possible without permanently stable operation of cooling systems. In particular, operators who have to rely on expensive fresh water sources such as drinking water can achieve high savings here. Often, the wastewater or runoff from these cooling plants is indirectly discharged to wastewater treatment plants at high wastewater charges. The reduction of wastewater discharge fees can also represent a very high savings potential.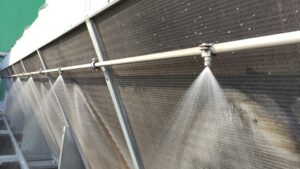 The treatment of wastewater from technical cooling systems is technically demanding, depending on the quality of the service water in these systems, as it often contains contaminations from the production processes and ambient air, and the salt content is increased due to evaporation losses and the already maximized thickening or concentration with the corresponding use of chemicals. Therefore, in addition to filtration of solids, desalination must be performed to make this wastewater usable again as additional water. Furthermore, the water must meet the hygienic requirements for the operation of evaporative cooling systems and cooling towers and must not contain, for example, elevated concentrations of legionella or stimulators for microorganisms.
For more than 15 years, INWATEC has had experience with the recycling of cooling water and has optimized and automated the process control. In the meantime, we can also treat the effluent of very demanding cooling water in an operationally stable way and recover it for reuse. The operators of the cooling plants can also benefit from our contracting models and realize the savings potentials directly and without any investment. INWATEC supplies and operates the plant technology, monitoring and chemical treatment completely from one source.
Just ask – cooling water recycling with INWATEC can be a real game changer. Click here to get to our contact form. You can also call our head office at any time on +49 2271 995510. Your contact person on the subject of water recycling and conservation is Holger Ohme.