Online monitoring of corrosion, sedimentation and biofilm by INWAview measuring system
The INWAview system represents a newly developed method for online monitoring of corrosion, deposition and biofilm. This is useful for early detection and prevention of potential material degradation and damage mechanism in cooling water systems.
Corrosion is a physicochemical reaction between metals and their environment and quickly leads to high maintenance costs in cooling circuits. Production losses can also result due to corrosion. In cooling systems, corrosion is primarily differentiated between microbiologically induced corrosion and pitting corrosion due to copper plating out. To prevent high costs and production losses, the corrosion rate is measured in mm/year of material loss. The more material loss there is, for example due to pitting corrosion, the higher the maintenance costs for the operator of the cooling water system. In addition to the material loss, the damage mechanism caused by the corrosion is also important. However, this is not evident by simply measuring the corrosion rate in mm/year. Monitoring via corrosion coupons is used for this purpose.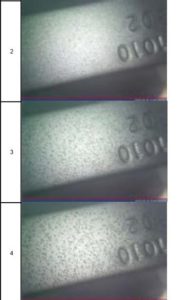 The INWAview system monitors the corrosion coupons using a high-resolution HD camera. The actual condition is documented online by the camera as an image or video in order to compare the condition at different time intervals. Possible changes to the test sample surface are recorded immediately, allowing corrective measures to be initiated in a timely manner. In addition, the success of the optimizations can be recognized, so that the damage mechanism can be specifically prevented. An advantage of measurement by the INWAview system is that it is not necessary to replace the test specimens. This means that the test operation is not interrupted and can provide reliable information about the corrosion behavior at any time.